The Laboratory of Environment and Food Safety (LEFS) is accredited to ISO/IEC 17025/2017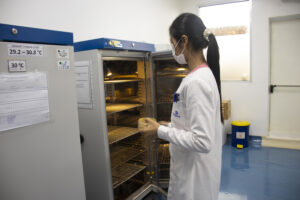 We are pleased to announce that the Laboratory of Environment and Food Safety (LEFS) at Institut Pasteur du Cambodge (LEFS) has just received accreditation to ISO/IEC 17025:2017 from the International Accreditation Service (IAS) on 6th September 2022. The certificate of accreditation  with the scope can be found on IAS website.
IAS is an internationally recognized accreditation body which maintains signatory status in a number of global multilateral recognition arrangements under Asia Pacific Accreditation Cooperation (APAC), International Accreditation Forum (IAF) and International Laboratory Accreditation Cooperation (ILAC).
This accreditation is the proof of the technical competence and the commitment to continuous improvement of quality service of the Laboratory and its staff.
This achievement is another step of IPC's goal to improve the quality of laboratory services in order to ensure the results accuracy for clients. Thus, at Institut Pasteur du Cambodge, LEFS is the third entity accredited after the Medical Biology Laboratory and the Laboratory of Calibration.
In the context of public health, the authorities of the Kingdom of Cambodia will be able to rely on this accredited laboratory, particularly in the field of food safety but also the accreditation of such a laboratory will be useful to serve the industry in Cambodia including food and fishery businesses.
The IPC thanks to UNIDO and EU via CAPFish-Capture: Post harvest Fisheries Development project, for their continuous technical assistance supports during this accreditation process.
Congratulations to all the team of Laboratory of Environment and Food Safety for this great result and the hard job they have done.