University of Health Sciences and Institut Pasteur du Cambodge held Scientific Seminar
February 16, 2023 marked the 1st session of Scientific Seminar among scientific colleagues from the University of Health Sciences (UHS) and from the Institut Pasteur du Cambodge (IPC), which will be followed by scheduled regular sessions every two months.
This UHS-IPC Scientific Seminar program stems from the initiative of H.E. Prof. Vonthanak SAPHONN, rector of the UHS, and Prof. André SPIEGEL, Director of IPC.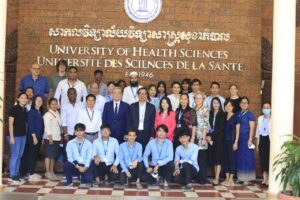 In their inaugural speeches, their remarks shared common view of using this program to bring closer together, facilitate technical exchanges and create synergy as well as complementarity among scientists of both institutions.
Next seminars will scheduled by alternating topics and venues between UHS and IPC.
In this 1st session held at UHS, Dr. Chan-Leakhena PHOEUNG, Director of UHS-Rodolphe Mérieux Laboratory, presented research works on pneumococcal colonization in Cambodia.